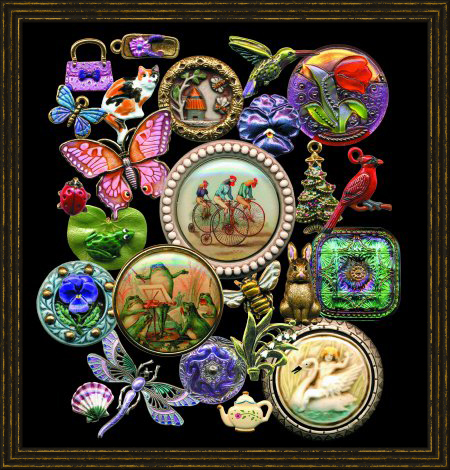 Hand Painted Buttons, Charms and Embellishments of all kinds, Czech Glass Buttons, Lacy Glass, Antique Buttons, Novelty Buttons, Antique Reproductions, Metal Buttons, Insect Buttons, Animal Buttons, Floral Buttons, Fairy and Angel Buttons, Vintage, & Victorian. Also, Silk Ribbon, Findings, Trims, Beading Supplies, and more.
---
THE LATEST NEWS
July 2021
Due to the new shipping regulations imposed by the EU and the UK, we no longer ship to destinations in those countries. When we considered the time, expense, monthly fees, and paperwork, it makes no sense. And we do not feel that it is our responsibility for us to be tax collectors for other countries.
New items and new painting schemes.
NEW PRODUCTS
We will be adding more new items shortly, (hopefully before the end of July).
Sign up for our Newsletter